Bangladesh Railway – BR job circular 2023 PDF has been published on the websites www.railway.gov.bd and br.teletalk.com.bd. According to the new recruitment notice, 1,385 qualified persons will be recruited for the post of Wayman. You can also apply online. The last date of application is 02 March 2023. What are the qualifications for application? How to fill out the online application form? Let's know the details in light of BD railway job circular 2023.
Bangladesh Railway Job Circular 2023
About 158 years ago, on 15 November 1862, Bangladesh Railway (BR for short) was founded. At the time of its foundation, it was a British-owned transport company.
It is currently owned by the Government of Bangladesh. The company operates and maintains all the railways in Bangladesh. According to Wikipedia, Bangladesh Railway currently has 34,168 employees.
In order to further increase the number of employees of the company, the rail authority published a new job circular on 11 May 2023.
Today we will know all the details about railway jobs through this post.
Detailed Information about Vacancies
As per the Bangladesh railway new job circular 2023, other information including application eligibility is given below-
Post Name Name And Vacancy: 
1. Gate Keeper/Gateman – 1505
Total Vacancy: 1505
Department Name : Bangladesh Railway
Application Published Date : 11 May 2023
Job Type : Government Jobs
Total Post : 1505
Application Fee : 56/112 Taka
Official website :  www.railway.gov.bd
Educational Qualification: Graduate Passed
Age Preferred: 30 years
Online Application Start Date: 14 May 2023 at 10:00 AM 
Post Name : Circular click here
Salary : 9,700– 23,490 Taka
Online Application Last Date : 31 May 2023 at 5.00 PM
For View full Circular click here
This time manpower will not be recruited for the posts of Booking Assistant (Grade-2), Assistant Locomotive Master, Khalashi, Railway Police, Gateman, Guard, and Assistant Station Master.
Other Important Information
Only candidates from the Lalmonirhat, Kushtia, Gaibandha and Pabna districts can't apply. However, orphans and physically challenged candidates from these two districts can apply.
If any candidate working in any organization wants to apply, he or she can do so. But it has to be done through proper authority.
In case of appointment to the Wayman post, the recruitment process will be completed following all the rules and regulations given by the government.
In any case, the authority can increase or decrease the number of vacancies. If the authority wants, they can also cancel the Bangladesh railway recruitment notice 2023. The authorities hold this right.
The decision of the authorities on any matter relating to recruitment will be final.
All Information Regarding the Application
All the information regarding the application as per the BR job circular 2023 is discussed in this section-
Application Deadline
Through the website www.railway.gov.bd, you can fill out the railway job application form online from 11 May 2023 at 10.00 am. The application process will continue for 1+ months. That means you can apply till 05.00 pm on 31 May 2023.
Bangladesh Railway Job Apply Online 2023 – www.railway.gov.bd
First, visit br.teletalk.com.bd.
Click on the "Wayman" option.
Now click on "Application form".
Select the "Wayman" option and click "Next".
Check the "Yes" radio button if you are a premium member of Alljobs, if not check the "No" radio button. Then press the "Next" button.
Now follow the next instructions. Fill out the railway job application form with the appropriate information. Finally, verify the information and submit it.
Remember, the candidate will need a color photo and a signature photo at the time of application. Keep the two photos with you before applying.
Image resolution must be 300 x 300 pixels and signature size must be 300 x 80 pixels. The image size cannot be more than 100 KB and the signature size cannot be more than 60 KB.
Application Fee
If you want to apply for the Way man post, you have to pay a total of BDT 112/- as the application fee. The fee must be paid within 72 (seventy-two) hours.
Application Fee Submission Procedure
If the online application form is filled and submitted correctly, the candidate will get an Applicant's Copy. You have to submit the application fee using the User ID in the Applicant's Copy.
You can submit the application fee by sending only 02 SMS from Teletalk Pre-paid SIM in the following method. The method is taken from the www.railway.gov.bd job circular 2023.
First SMS: Type BR <space> User ID and send SMS to 16222 number.
Second SMS: Retype BR <space> Yes <space> PIN and send SMS to 16222 number.
Note that you will be given a PIN number when the first SMS is sent. You need to use the PIN number in the second SMS. Sending two SMS as per the above rules will complete your application process. You will be notified that the application has been successfully completed in a confirmation message. Along with a password will be given.
Official Circular Notice Link: Click here to see the Official Circular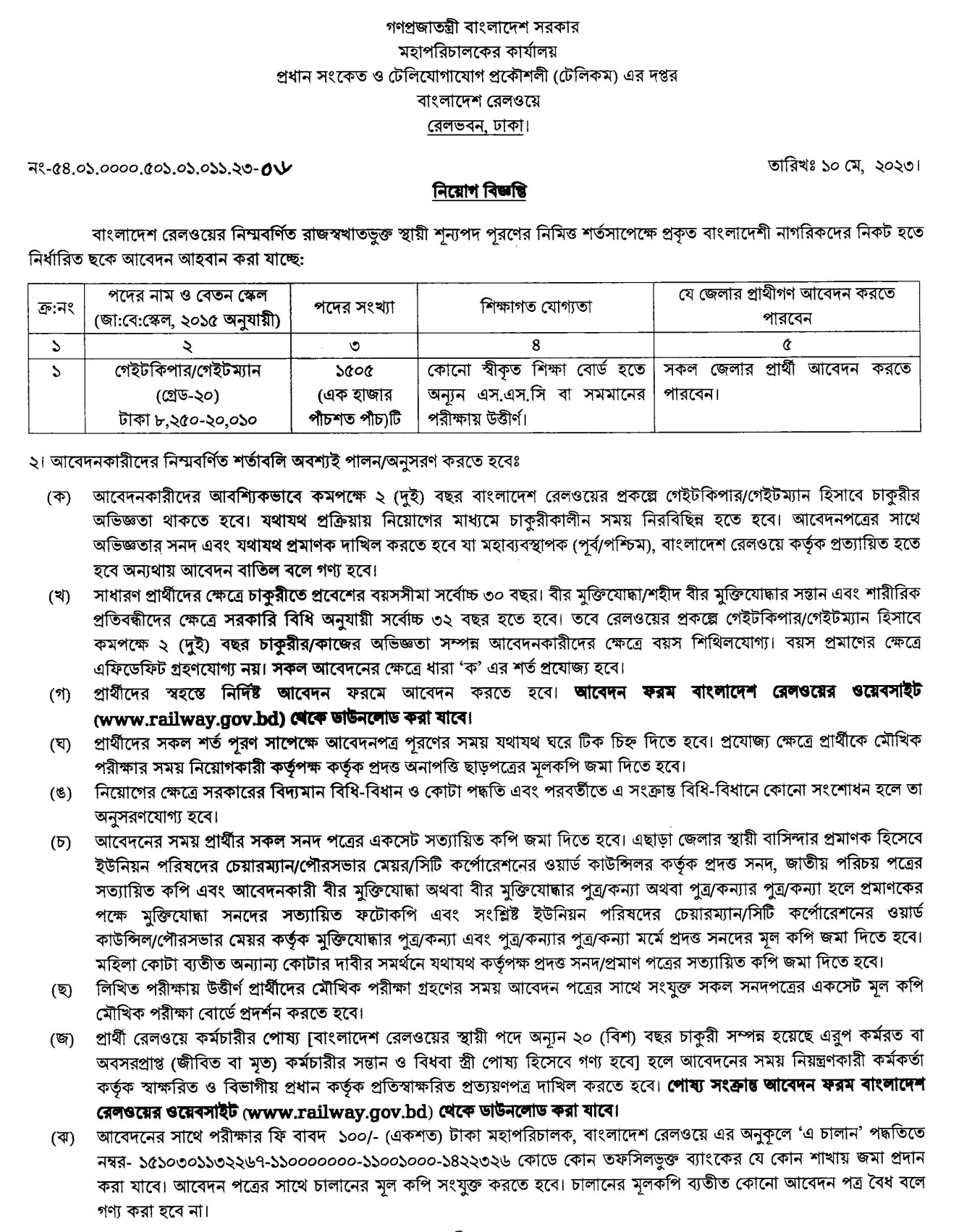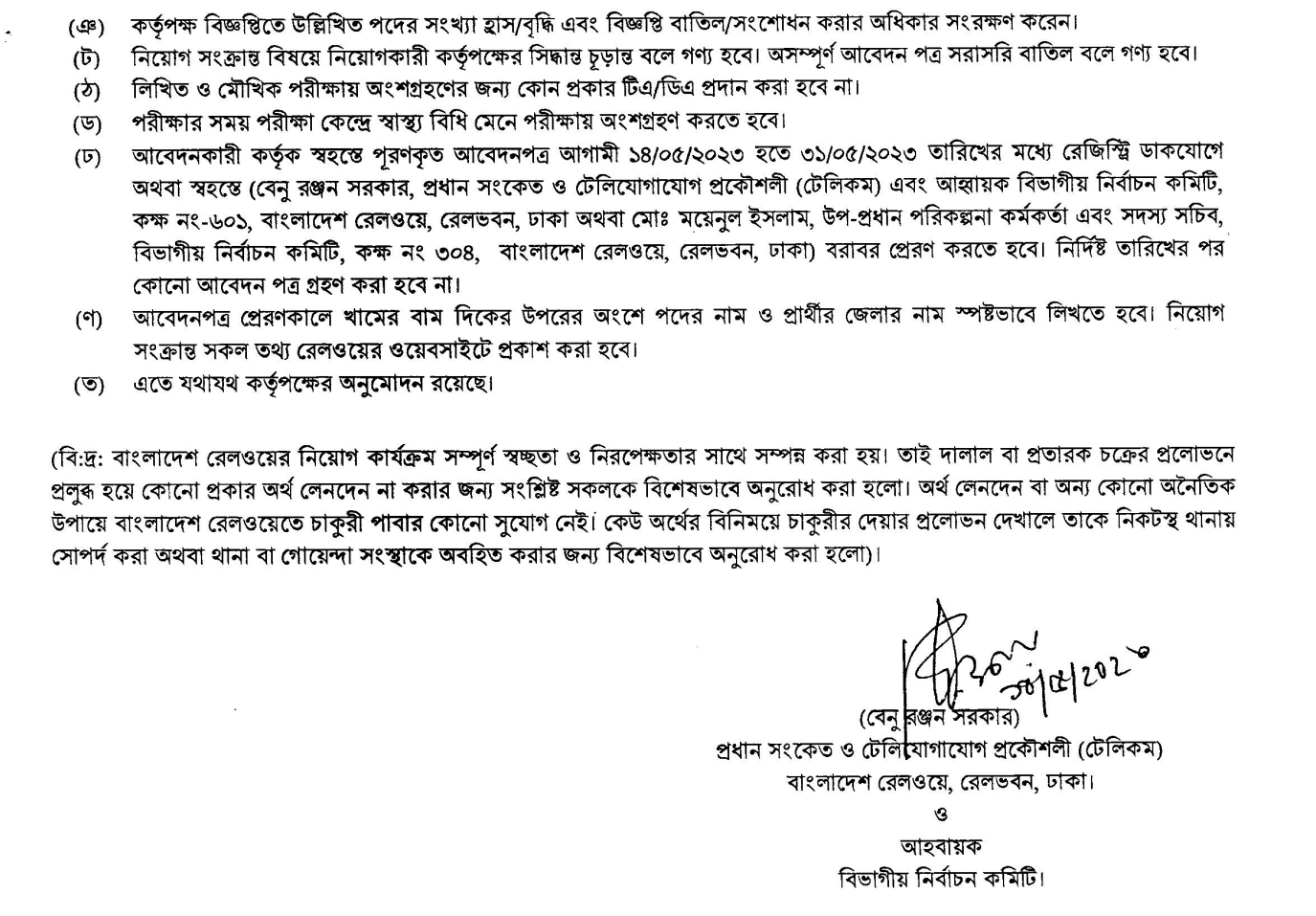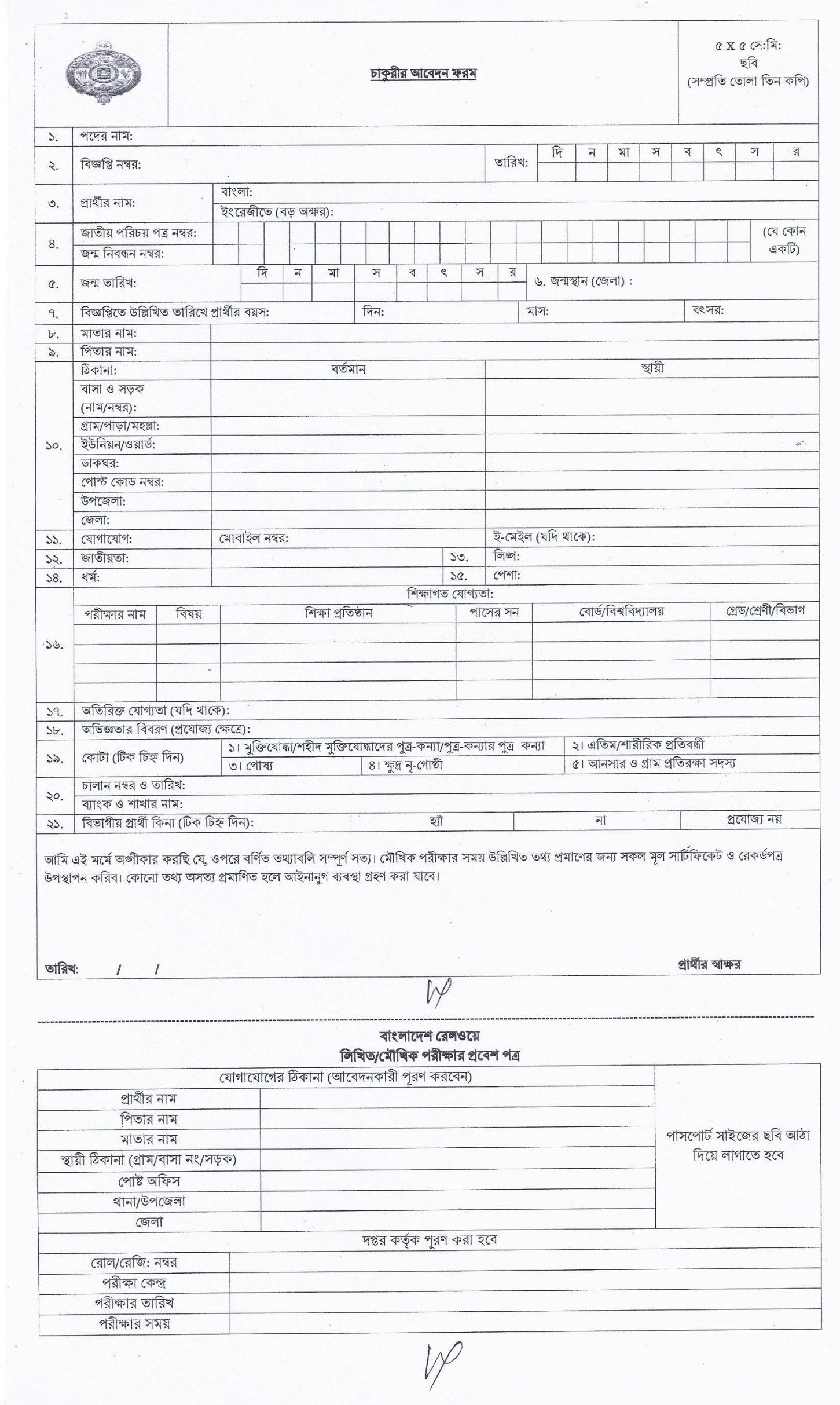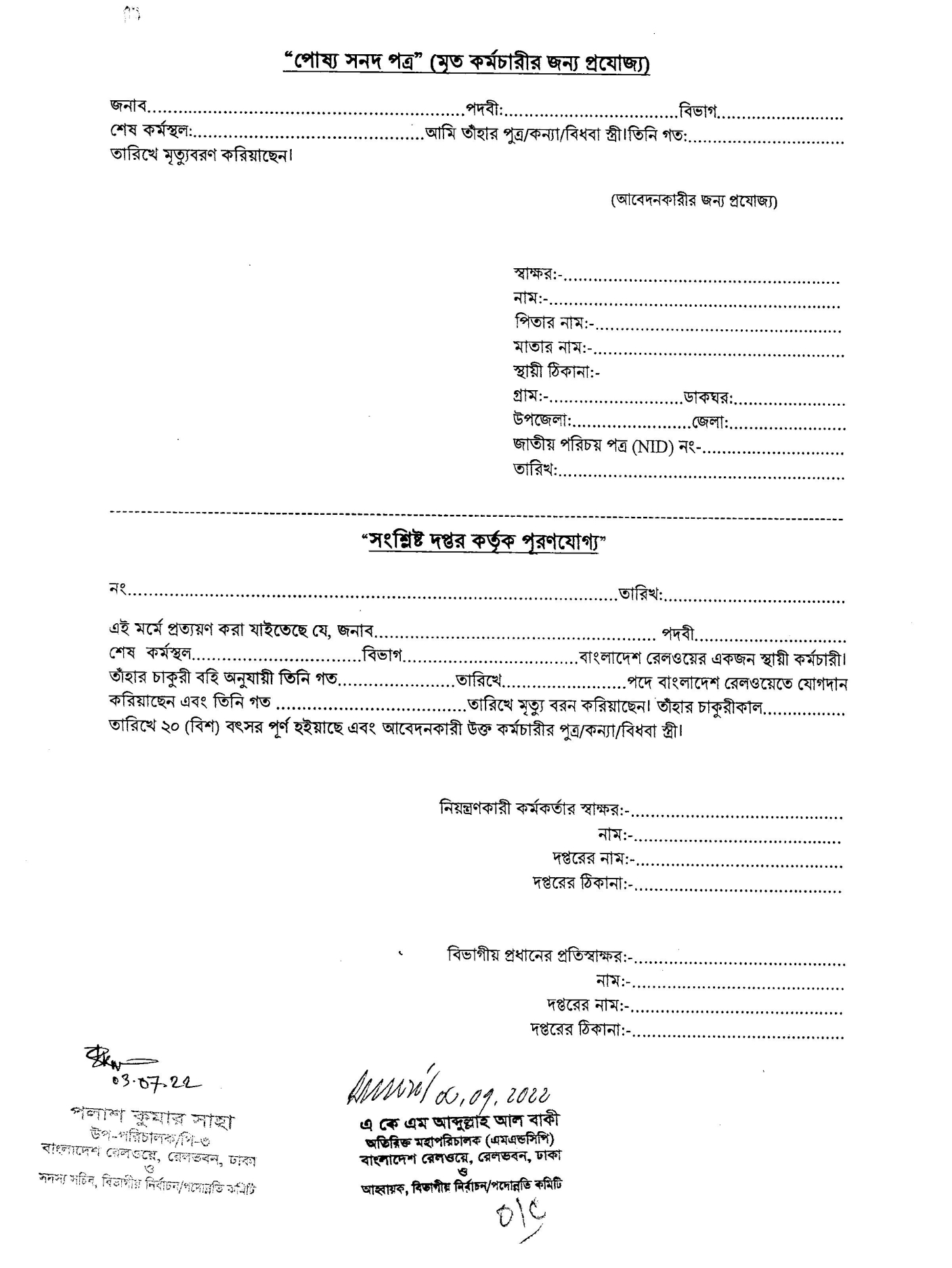 BD Railway Job Circular 2023 – www.railway.gov.bd
The updated Bangladesh railway job circular 2023 PDF is given below with a link download.
Bangladesh Railway Admit Card Download
You will be notified via SMS when the Railway admit card is published. When the admit card will be available for download, you can download it by entering the User ID and Password by visiting this website br.teletalk.com.bd.
However, no SMS regarding the admit card will be given to the candidates who are considered ineligible.
Official Circular Link: Click here to see the Official Circular
For View full Circular click here
Educational Qualification:
Candidates should possess 8th class Standard to apply for the posts. To know more about qualification in detailed, read the notification.
Age:
As on applicants age limit should be 18-30 years. Upper age relaxation for reserve category candidates as per the Govt. Rules.
Bangladesh Railway Job Circular  Selection Process:
Selection will be made through written test & skill test. Merit lists in each category will be drawn on the basis of marks obtained by the candidates in the written test & skill test
Bangladesh Railway Job Circular  Application Process:
Candidates are required to apply through online mode within 2022. I personally suggest don't wait for the last date, should apply as early as possible.
Bangladesh Railway Job Circular Required Documents:
a. Educational qualification certificate
b. Age proof certificate
c. Caste certificate if applicable
d. Voter Card etc for verification of citizenship
e. Recent passport size photograph
And also required a valid personal e-mail ID and mobile no., which should be kept active till the completion of this Recruitment Process.
Note: I want to inform to the all eligible candidates to read the official advertisement very carefully about Railway Bangladesh for Railway Bangladesh Posts before the final submission of application form.
N.B: The content given above are meant for informational purpose only in interest of ejobsnew. ejobsnew.com is not a recruitment agency and do not carry any recruiting process. ejobsnew.com is a news media which provides first-hand basic info of various recruitment going all over Bangladesh. all jobs circular bd are requested to go through the official website of the company/department for complete details & application process.
See All Jobs :